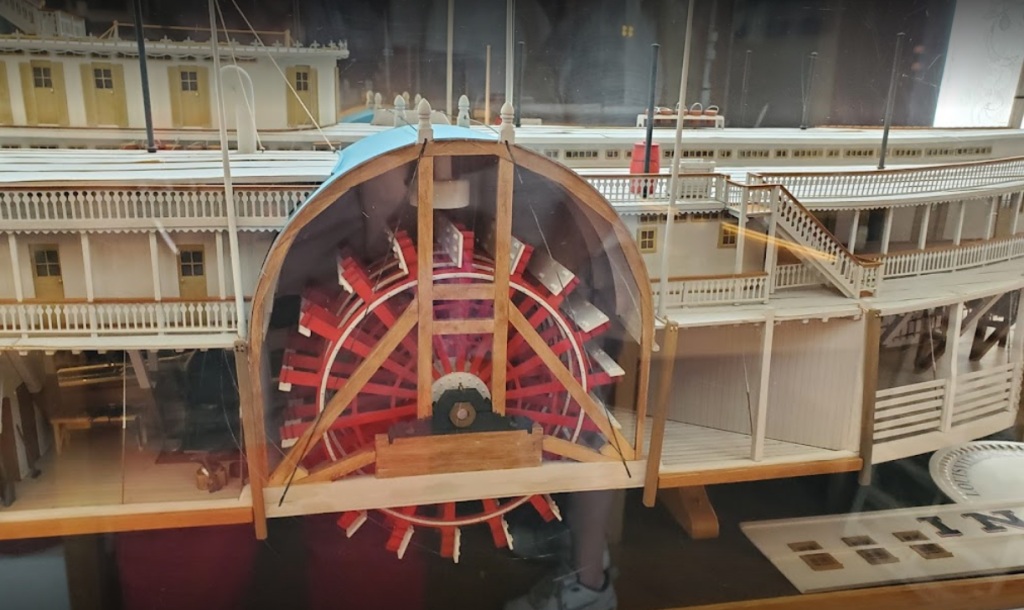 The Howard Steamboat Museum, also known as the National Historic Steamboat Museum is located at 1101 E Market St, Jeffersonville, IN 47130. It housed in the old mansion of the infamous Howard family. Inside, you can find items related to the steamboat industry and the Howard Shipyards in Jeffersonville. The steamboats that are displayed here were built by the Howard family, and some of the items are very rare. Whether you are a fan of antiques, history, or just love the sea, this is a place that is definitely worth visiting.
The museum's collection includes more than 300 glass plate negatives taken by Captain James E. Howard (1875-1956). The photos document the construction of more than 200 boats at the Howard Shipyard and show many aspects of Howard Shipyard life. The photographs also feature photographs of family members and extreme weather events that occurred in the Jeffersonville area, as well as other ships built at other shipyards. The collection continues to grow with additional negatives, prints, and postcards from the late captain.
The museum's digital collection contains 790 images of the 195 steamboats built by the Howard shipyard. It is hoped that the online collection will eventually include the entire physical collection. Fair use of the website's content is encouraged. To order reproductions for personal use, contact the Howard Steamboat Museum directly. There is a photo release form for non-commercial use. It is also free to visit the site.
The mansion of James Howard was originally built by steamboat builders. It still features many details from steamboat building. The second floor of the mansion is the museum dedicated to the American River Steamboat. The boatyard produced various types of vessels, including the J.M. White, Robt. E. Lee, Cape Girardeau, and Gordon C. Greene. A variety of artifacts from the past are displayed inside the mansion, and it is easy to get lost in history while visiting.
The photographs are housed at the University of Louisville Photographic Archives. They feature more than 300 completed vessels and document at least 200 of them. They also feature family members, extreme weather incidents, and other ships built in Jeffersonville. The museum's galleries are also filled with a variety of photographs of the region. There are even photos of the founder's son, Edmonds J., at the museum. He was the second generation of the Howard shipyard and his family.
The museum's home is a perfect example of the early Victorian era. The first generation of the Howard shipyard was James Howard, who established the company in Louisville in 1834. After his death, Edmonds J. took over the operations of the yard. The museum is the last remaining building from this era. Its beautiful artifacts of the steamboat era are on display in the mansion.