Has Your Ability To Settle Cases Been Put On Hold?
I'm Still Helping Settle Cases During These Unsettling Times
Mediations Are Being Performed Safely Via Online Conferencing as Well as In Person
Contact Me Today To Schedule Your Mediation…Let's Get Your Cases Settled!
Call 502-582-3711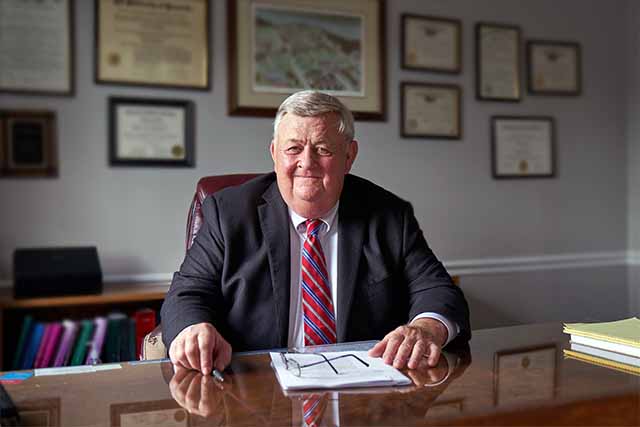 I am an actively practicing attorney licensed to practice law in Indiana and Kentucky. I am also a mediator certified by the Indiana Mediation Registry to conduct meditations involving civil matters including, personal injury, wrongful death, premises liability, motor vehicle and trucking collisions, products liability, medical negligence, wrongful discharge, sexual harassment, sexual discrimination and civil rights, and toxic torts. I mediate contract disputes, insurance issues, business disputes and descendent estate issues. I help resolve real estate disputes for boundaries, sales of real estate and warranty issues.
In 2014, I went through training through the Indiana Office of Administration and Continuing Legal Education and became a certified mediator of the Indiana Mediation Registry. While there is no license required to be a mediator, I have kept my certification active and regularly attend continuing education to sharpen my skills and exchange strategies in negotiations to further my ability to assist parties to reach resolutions in their disputes.
I have practiced civil trial law since 1976. I have been hired by insurance companies to defend their insureds and, since 1983, I have represented individuals who have been injured or wronged by others through no fault of their own. When I began practicing law, mediation was not an option to resolve cases. We got ready for trial, spent money on party depositions and doctor's depositions and settled, more often than not, on the steps of the courthouse with the jury waiting.
That pressure of walking in front of citizens who the client didn't know and who, with all of their biases and personal beliefs about litigation, were about to decide the client's fate, was a strong incentive for the client to settle. In some instances, the last offer on the courthouse steps was more than a jury awarded. In other cases, the jury was less generous.
The difference today is that, typically well in advance of trial, through mediation, the client can evaluate settlement possibilities without the pressure of a jury waiting in the courthouse and before the expense of expert testimony.
As a "neutral" with no interest in the outcome of the case other than to help resolve it, I hope to give the parties the opportunity to assess the strengths and weaknesses of their case. I do not give legal advice in a mediation, but as a trial attorney for 44 years working both sides of the dispute, if asked I do express opinions on the value of a given case. I am actively practicing and daily litigate civil cases.
Often, parties and their attorneys are open to and welcome neutral case evaluation. My goal in every mediation is, in the words of David Whyte, "Good work, done well, for the right reason and with an end in mind."
I would be honored to put my experience and expertise to work for you in resolving your case. Please contact me through the scheduler on this website.
Experience & Qualifications
BIXLER W. HOWLAND
Business Address
2721 Taylorsville Road
Louisville, Kentucky 40205
(502) 582-3711; (502) 694-9962 (fax);
(502) 548-3496 (mobile)
E-mail: bixler@loulaw.com
Education
1973-1975 University of Louisville, Brandeis School of Law
Degree: J.D.
Honors: Dean's List
Extracurricular Activities: Moot Court Mentor
1968-1972 Hanover College, Hanover, Indiana
Degree: Bachelor of Arts
Honors and Awards:
Alumni Senior Award
Interfraternity Award
Committee of Twenty-Six (policy committee
comprised of trustees, alumni, faculty,
administrators and students)
Fraternity Vice-President
Fraternity President
Varsity Football Letterman
Varsity Wrestling Letterman
Extracurricular Activities:
Newspaper Staff
Interfraternity Council
Lambda Chi Alpha Fraternity
Committee for Proposed Judicial System
Reorganization
Stage Band
Employment
1993-Present Bixler W. Howland, P.S.C.
2721 Taylorsville Road
Louisville, Kentucky 40205
1988-1993 Blackburn & Howland
1610 Kentucky Home Life Building
239 South Fifth Street
Louisville, Kentucky 40202
1983-1988 Clements, Hodge, Hurley & Howland
308 Legal Arts Building
200 South Seventh Street
Louisville, Kentucky 40202
1981-1983 Hodge, Hurley, Howland, Yater, Strepey & Bartley
606 Kentucky Home Life Building
239 South Fifth Street
Louisville, Kentucky 40202
1977-1981 King, Hodge & Howland
808 Kentucky Home Life Building
239 South Fifth Street
Louisville, Kentucky 40202
1976-1977 King, Eckert & Hodge
808 Kentucky Home Life Building
239 South Fifth Street
Louisville, Kentucky 40202
1974-1976 Law Clerk, Law Firm of King, Eckert & Hodge
Responsibilities: Investigation and adjusting
of insurance claims for insurance companies
represented by the firm. This included initial
contact with claimants and obtaining signed,
detailed statements from claimants and witnesses.

1972-1973 Action (Peace Corps/Afghanistan). Volunteer
Responsibilities: Disaster relief distribution
team member involving planning commodity
distribution and follow-up survey.
Evaluation Department Member for Food-For-Work
Program.Prepared training design for Afghan counterparts and
engineers and evaluation standards for
construction projects.
Reason for leaving: Completion of Service.
1969-1971 Ray E. Wilson, Inc., Indianapolis, Indiana
Union Construction Laborer
(Summer work to pay for 35% of college education)
Professional Licenses
2007 Admitted to practice in all Indiana State and
United States District Courts.
1986 Admitted to practice in United States Court of
Appeals, Sixth Circuit.
1980 Admitted to practice in the United States District
Court for the Eastern District of Kentucky.
1978 Admitted to practice in the United States District
Court for the Western District of Kentucky.
1976 Admitted to practice in all Kentucky State Courts.

Professional Association Memberships
Attorney-Mediator Association
Indiana Bar Association
Louisville Bar Association
Kentucky Bar Association
Indiana Mediator Registry
American Association for Justice
Kentucky Justice Association
The National Trial Lawyers
Teaching Experience
2006 Hanover College – Winter Term – Adjunct Professor,
Business Law
2004 Spencerian College, Adjunct Instructor, Medical Law and Ethics
Honors
2018 Martindale-Hubbell AV Preeminent Rating
2014 Hanover College Alumni Achievement Award
2009-Present Named as a "Kentucky Super Lawyer" in
Kentucky Monthly magazine
2008-Present Named as a "Top Louisville Lawyer" in
Louisville Magazine
1995-2005 Certified in Civil Trial Advocacy by National
Board of Trial Advocacy
Community Activities
2016-2019 University Club, University of Louisville, Vice-President and Board
Member
2005-Present Leadership Advisory Counsel, Center for Business
Preparation, Hanover College – Member
(Named Executive Partner 2011)
2006-2007 Member of Hanover College Greek Summit
Implementation and Oversight Team
2005-2006 Member of Hanover College Greek Summit
1987-2012 Kentucky Derby Festival Volunteer (Pegasus Parade)
2003-2009 St. Elizabeth's Maternity Home/Catholic Charities
Advisory Council Member.
1993-1997 Pitt Academy (a school for children with learning
differences). Board Member and past President.
1989-1994 Sawyer Youth Soccer Association – Vice President
and Board Member.
1986-1995 Eagle Scout Sponsor
1983-1985 Lambda Chi Alpha, Hanover College Chapter Alumni
Corporation – Vice President/Member of
Recolonization Committee
1983-1984 Hanover College Alumni Association – President
1980-1983 Hanover College Alumni Association – Member – Board
of Directors
1978-1980 Bardstown Road/Baxter Avenue Development Committee
1978-1981 U.N.I.C.O.R.N. (L.E.A.A. Anti-Crime Grant Project)
Board Member, Treasurer
1978-1982 Highlands Outreach Program for Older Persons – Board
Member
1977-1979 Louisville Inter-Neighborhood Coalition – Highland
Neighborhood Association Representative
1977-1979 Highland Neighborhood Association – President
1976-1980 Highland Neighborhood Association – Member